Welcome to the Conwy (TheDarkAge) Wiki
Server is closed
This is the Wiki for the minecraft server, The Battle for Conwy Castle
IP: thedarkage.nl
Website: thedarkage.enjin.com
Creator: Rockslide

Timeline of Conwy history (server)
When you first join, you are randomly placed on a Team, based on which map you join. Check the "Battle Maps" tab for info on teams.
To start playing, go to the front of the room and left-click the wool-map on your team's color. If you want, you can choose a different class to battle with, too.
Read the "How-to-play" book in your inventory for more information.
Conwy Origins
On the 1st of July 2012, Rockslide created a server that would be about huge armies fighting each other. It started out with Conwy castle, intended to be a reenactment of the battle that took place in 1294-95. The server was small at first, but it grew and grew and grew, and became the huge prosperous server it is today
(please add on to this; I'm not all that knowledgeable about the events that happened)
Format
[Please use the right Format, think about the headers and stuff. (Take a look at the other pages)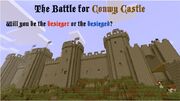 Latest activity