Welcome to the Conwy (TheDarkAge) Wiki
Server will be reopened!
The former owner has given permission and support to two players who are developing the Conwy as we knew it. The same forum will be used in the process.
You can join the discord by the following link: https://discord.gg/KU9EAxH
This is the Wiki for the minecraft server, The Battle for Conwy Castle
IP: thedarkage.nl
Website: thedarkage.enjin.com
Creator: Rockslide

Timeline of Conwy history (server)
When you first join, you are randomly placed on a Team, based on which map you join. Check the "Battle Maps" tab for info on teams.
To start playing, go to the front of the room and left-click the wool-map on your team's color. If you want, you can choose a different class to battle with, too.
Read the "How-to-play" book in your inventory for more information.
Conwy Origins
On the 1st of July 2012, Rockslide created a server that would be about huge armies fighting each other. It started out with Conwy castle, intended to be a reenactment of the battle that took place in 1294-95. The server was small at first, but it grew and grew and grew, and became the huge prosperous server it is today
(please add on to this; I'm not all that knowledgeable about the events that happened)
Format
[Please use the right Format, think about the headers and stuff. (Take a look at the other pages)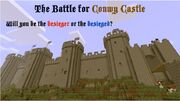 Latest activity
Ad blocker interference detected!
Wikia is a free-to-use site that makes money from advertising. We have a modified experience for viewers using ad blockers

Wikia is not accessible if you've made further modifications. Remove the custom ad blocker rule(s) and the page will load as expected.